What is CPD Standards Office?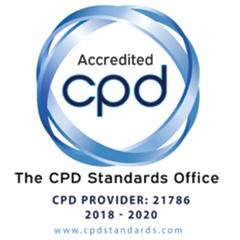 Our mission is to support everyone involved in Continuing Professional Development (CPD) to make it better, easier and more affordable.
We founded the CPD Standards Office as a result of a comprehensive research project into the quality of continuing CPD provision across the country. Our in-depth research surveyed over 1000 professionals and interviewed a range of professional bodies and regulators. We found that the standards of CPD varied greatly and that too much of the training provided was of remarkably low quality.
Delegates complained about a "lack of passion" and "courses pitched at a too simple level".
By providing independent accreditation, our mission is to improve the quality of continuing professional development (CPD) to ensure positive and successful CPD experiences. We also want to make it more affordable and easier to access.
We help CPD providers ensure that they deliver consistently high-quality training that is inclusive and collaborative. Our marks of excellence for training and learning providers demonstrate to individual professionals that the learning activity conforms to CPD best practice and is appropriate for inclusion in a formal CPD record.
Our activities centre on:
Research – into all areas of CPD and professional development
Accreditation – to the CPD Standards Office's mark of quality
Advice – to individuals, employers, professional bodies and CPD providers.
Our research arm explores how CPD can:
Be delivered to a high standard by trainers, coaches and other providers
Include effective activities that combine traditional and modern forms of learning
Become a positive and valuable experience for individual professionals
Deliver benefits to businesses, organisations and other stakeholders
Work effectively with CPD schemes administrated by institutes and membership organisations.
During our research, accreditation and consultancy activities we have worked with:
Association of Project Management
Aviva
British Psychological Society – Department of Occupational Psychology
CPD Institute
Engineering Council
Financial Skills Partnership
Global PA Network – A membership organisation representing over 5,000 PAs and Secretaries
Kingston University Business School
Memberwise – A network of over 1,250 professional associations and membership bodies
Nationwide Building Society
Royal Statistical Society
Science Council
The Professionalism Group – A group which helps individuals and organisations to develop professionalism.
CPD Stakeholders:
The CPD Standards Office forms part of the Professional Development Consortium. The Consortium works to build bridges between stakeholders to increase the benefits of CPD to individuals and employers. In particular, we encourage the spread of best practice and the sharing of support.
Chartered Institute of Personnel and Development (CIPD)
Mandatory
The CIPD has a mandatory policy in place to ensure its individual members undertake CPD. It stipulates that its members shall:
maintain professional knowledge and competence
seek appropriate support if business needs require involvement in new areas of activity
ensure that they provide a professional, up to date and insightful service
upon request will provide evidence of compliance with the CPD policy.
To assist members in identifying relevant CPD requirements, the CIPD provides online resources including a CPD Map and CPD Review.
Further Information:
https://www.cipd.co.uk/learn/cpd